Josh came to me with an online software product he'd been building for 2 years, looking for a redesign and marketing strategy after struggling to gain traction.
Josh is a dentist who builds online businesses. That might sound like an odd choice for a dentist, but it makes sense for Josh because he already owns and runs several thriving businesses (dental practices).
We met when Josh was 2 years into his first major online business venture: he'd hired a local IT firm to build his vision for a new small business communication and project management tool.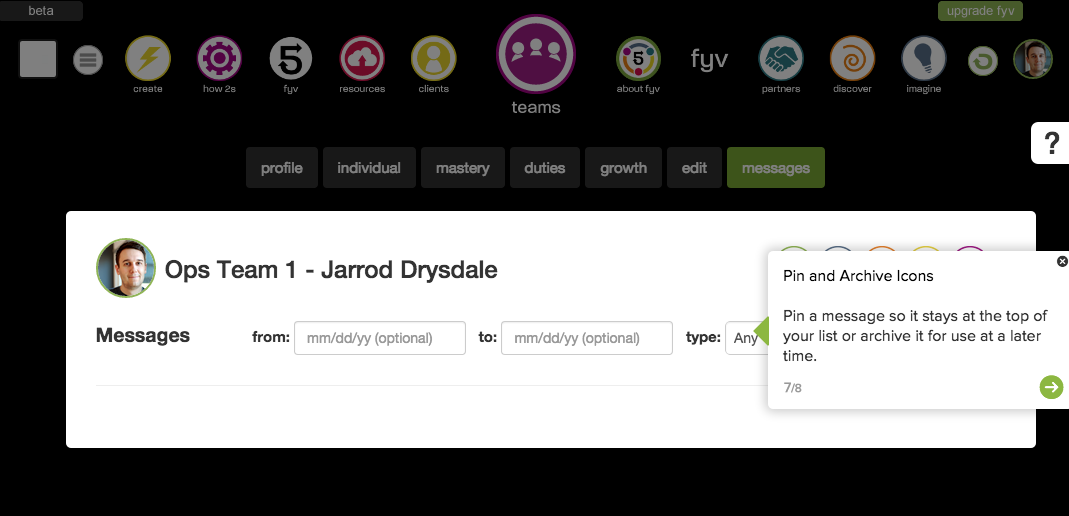 A screenshot of the SaaS app made by an IT firm.
After struggling to gain traction, he was looking for a redesign for the marketing website and the web app itself, hoping that a refresh would kickstart the business.
As we discussed his goals and business, I realized Josh was another unfortunate example of a too-common story: he hired an agency that didn't respect his investments. After 2 years of working with that agency, he was left with a struggling, unfocused product and a huge bill to match.
Don't Hire Me
My initial advice to Josh was this: don't hire me for this. Don't hire any designer for this. Your product doesn't have a clear audience and it's difficult to understand which problems it attempts to solve. You need to decide on a specific audience and focus before you can move forward with this business. Otherwise, a redesign would be a waste of your money.
Together we researched potential audiences and discovered the perfect fit for Josh: dentists who own their own private practices. Being part of this audience himself, Josh clearly understood this segment's needs and goals. Together we audited the app's current features and wrote a plan for how to refocus the product.
Pivoting a Giant is No Small Step
Now that we had an audience and project specs, we needed a developer to implement the new plan. But, before we began the project, I advised Josh that a reality check was necessary. We needed to know more about the state of the existing code to determine how complex the pivot would be.
I referred several developers to review the app's code base, and we made a sad discovery: the code would be difficult if not impossible to adapt. A total rewrite would be less costly than improving the existing app.
Faced with another large investment to continue with the business, Josh faced a tipping point.
My advice to him: I understand if you want to cut your losses. But if you want to continue making a product, build something totally new.
PracticeWater is Born
Josh has never lacked vision. Freed from all the baggage of his struggling web app, and following the new direction we discovered together through audience research, the gates were opened and his ideas about how to serve this new audience—ahem—flowed.
Josh's new vision was a company focused on helping independent dental practices increase their profits by optimizing business operations, attracting new patients, and reducing expenses.
PracticeWater is the new brand that we created. Here is the logo and branding I designed for PracticeWater.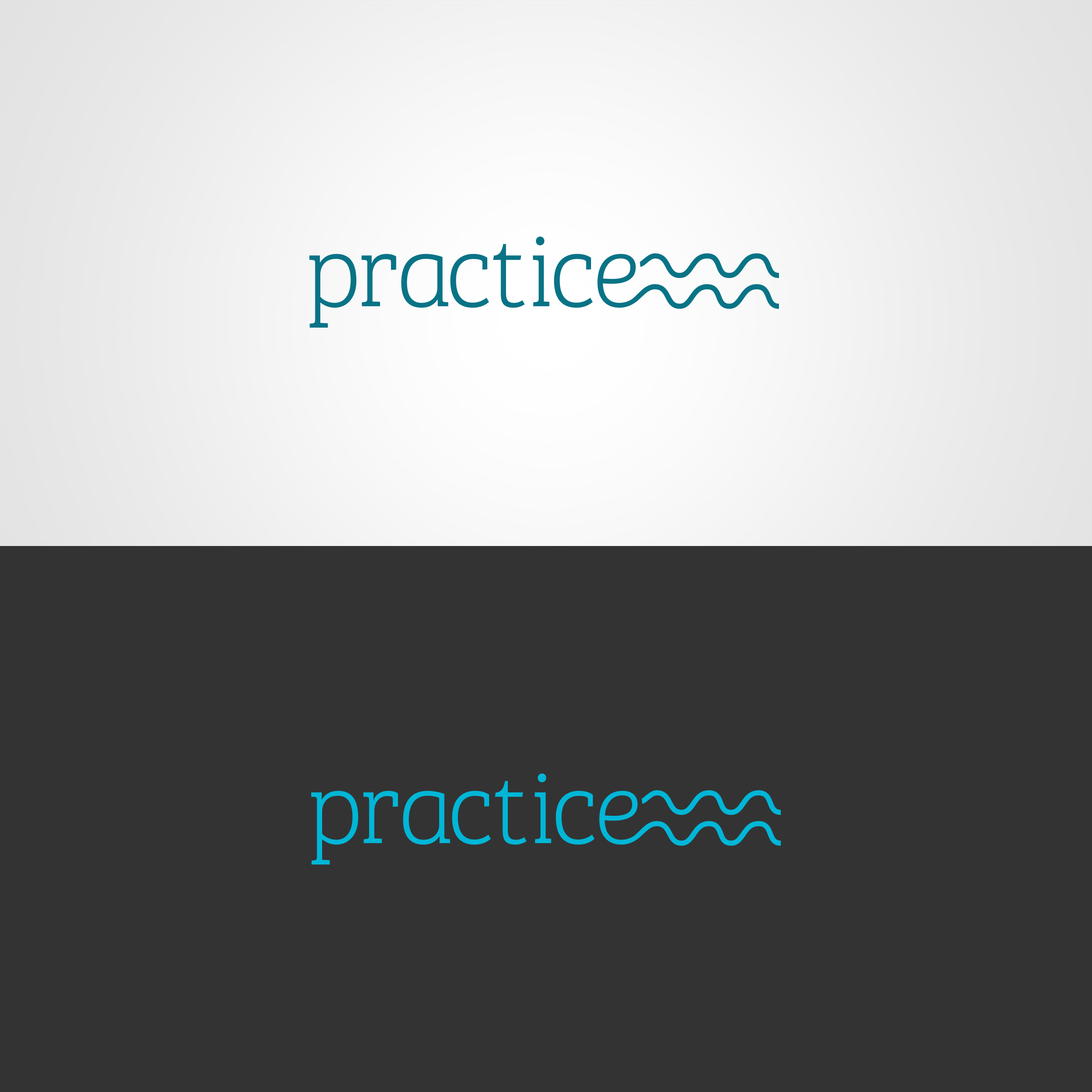 A Minimum Viable Product
However, a brand is nothing without a product to sell. Our work did not stop with creating a logo. Josh had a vision for a new product—but this time he had research and experience to back up the plan.
We researched potential competitors using Josh's extensive experience in the dental industry, analyzing famous dental industry consultants who charge 5 and 6 digits for "business systems" that claim to attract new patients and boost case acceptance rates (or the frequency with which patients will accept a service at the dentist office).
However, after years of running his own practices and having tried many of those systems, Josh knew exactly what his audience knows: that growing profits in a dental practice is a complex issue, but it always comes down to people.
Josh's own dental practices thrive not because of some cold, rigid business process but because of the teams he has assembled and his relationships with his patients.
So, we created a new kind of product for dental practices that teaches dental professionals how to provide care for patients in a way that patients can understand. The products help dental teams align their services with what patients want for their own lives while also optimizing daily operations.
My advice to Josh was to create a minimum viable product, rather than diving into the deep end with a large investment, which is what had led him to get burned with his previous venture.
Josh and his team wrote and assembled a variety of training materials: PDFs, videos, source files, and other assets needed to run a dental practice smoothly.
I designed, wrote, and built a new website where Josh could market these new products and sell them online.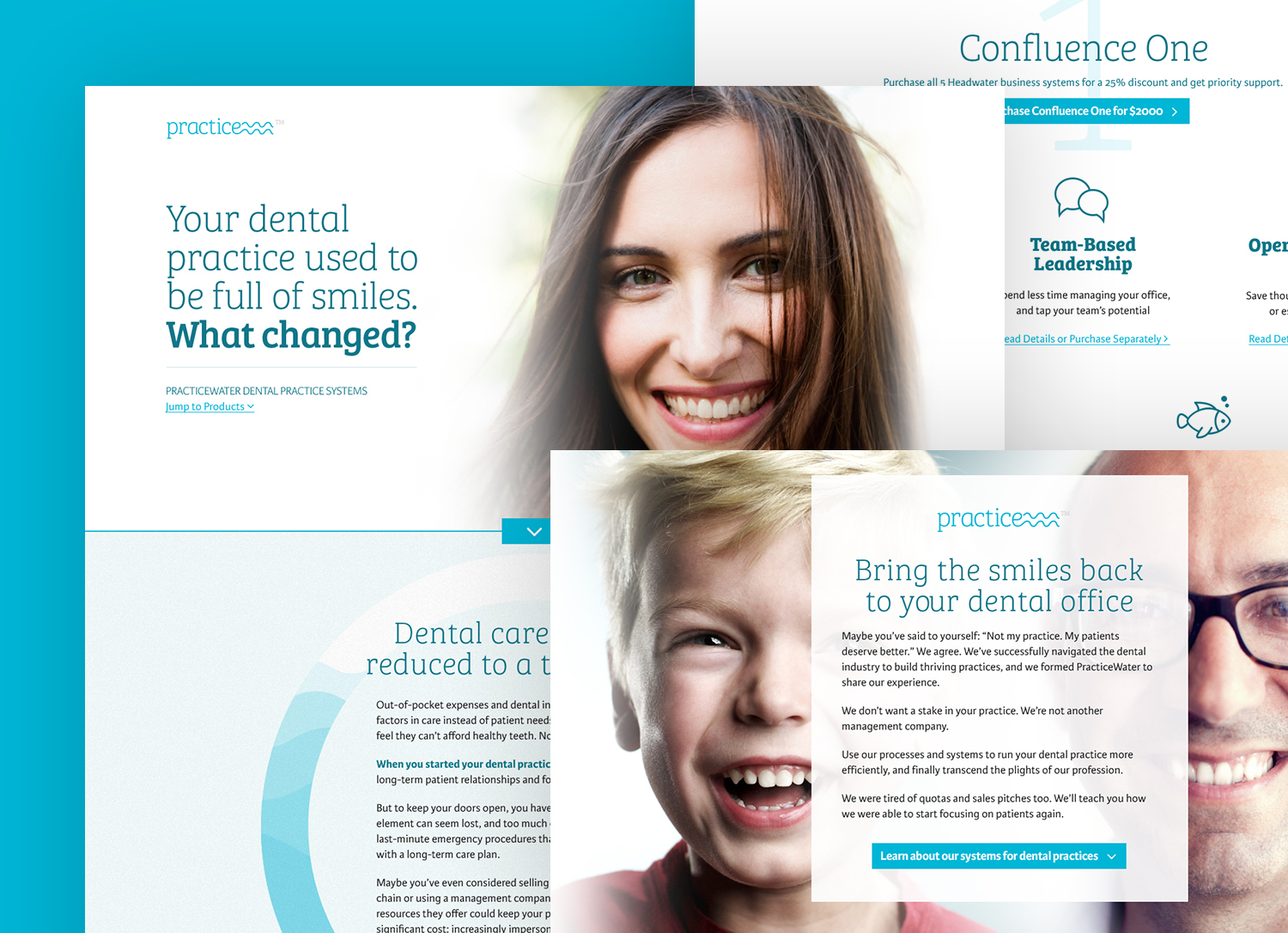 Launching to Crickets
Build it and they will come.
—Some dumb movie
That phrase just isn't true. A business needs marketing in order to reach its target audience, and launching a new website and product wasn't enough. Josh needed to find his first customers for PracticeWater.
However, the great thing about building a brand and product based on audience research is that when you're ready to start marketing efforts, you already know who your customers are and where they are. We just needed ways to reach them.
I wrote a marketing plan for PracticeWater including a variety of experiments so Josh could measure how to use his marketing budget most effectively. The marketing plan included:
Content Marketing & Social Media Calendar
Advertising experiments: Twitter Leads Cards, Facebook targeting criteria, and Retargeting Ads
Email marketing & automation setup
Pre-written social media queue
Digital display ad designs
Lead magnet campaign recommendations (free ebook upon newsletter signup, etc)
As we implemented the new marketing plan and ran tiny-budget advertising tests to evaluate which strategies worked in the dental industry and for Josh's new unique products, Josh chose to create the free ebook lead magnet as I'd recommended. Josh and I wrote the book together, and I designed it using free stock photos to reduce his expenses.
The launch of the ebook brought PracticeWater's first subscribers and its first paying customer.
Turn Our Profit Centers into Products
With the minimum viable products shipped and a bit of momentum beginning to build, Josh chose to scale up his product offering and invest into launching more products.
Together, we designed and released 5 more products for dental practices over 3 years (and counting) of partnership. Here are some of the things we've created together.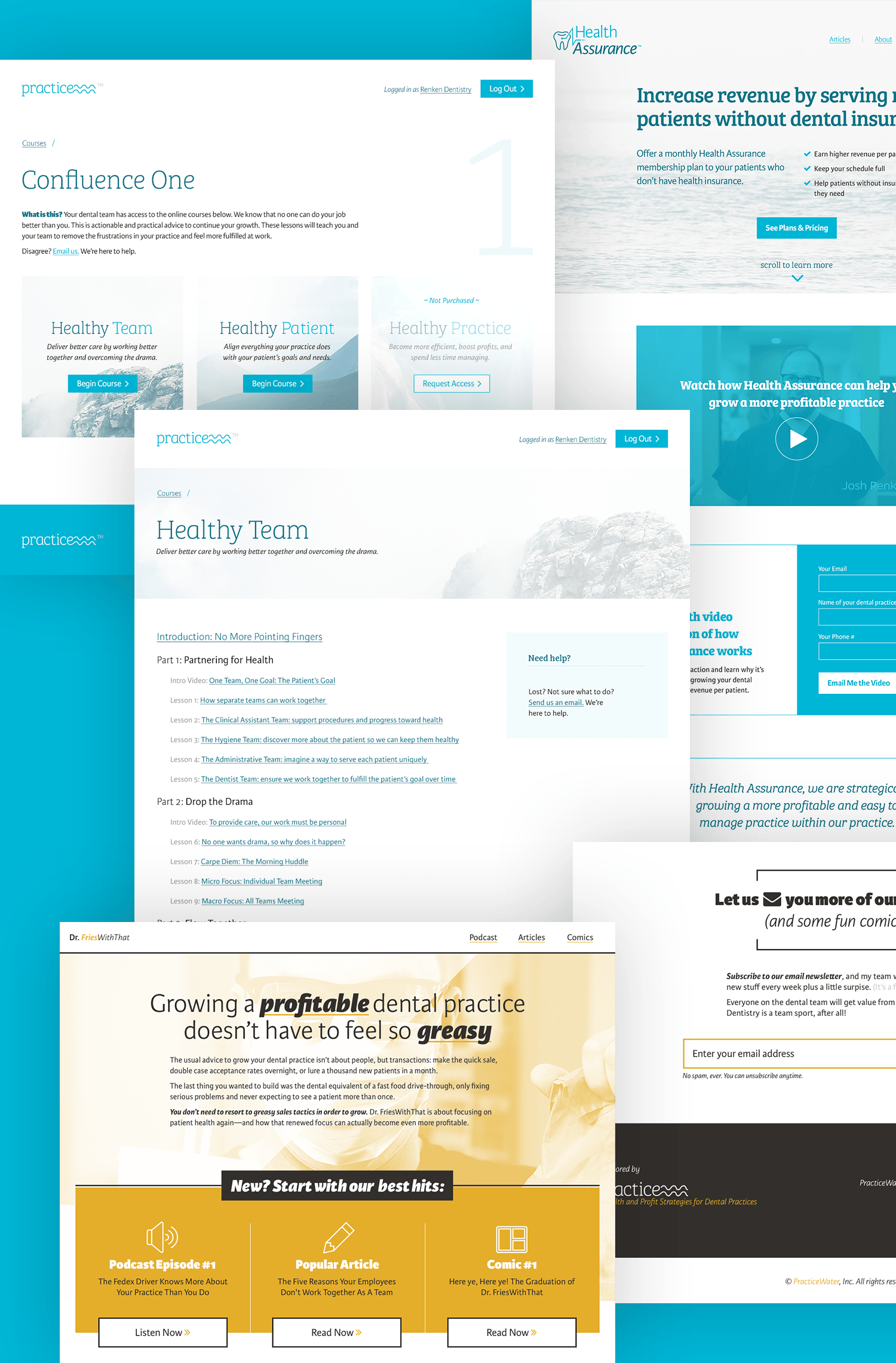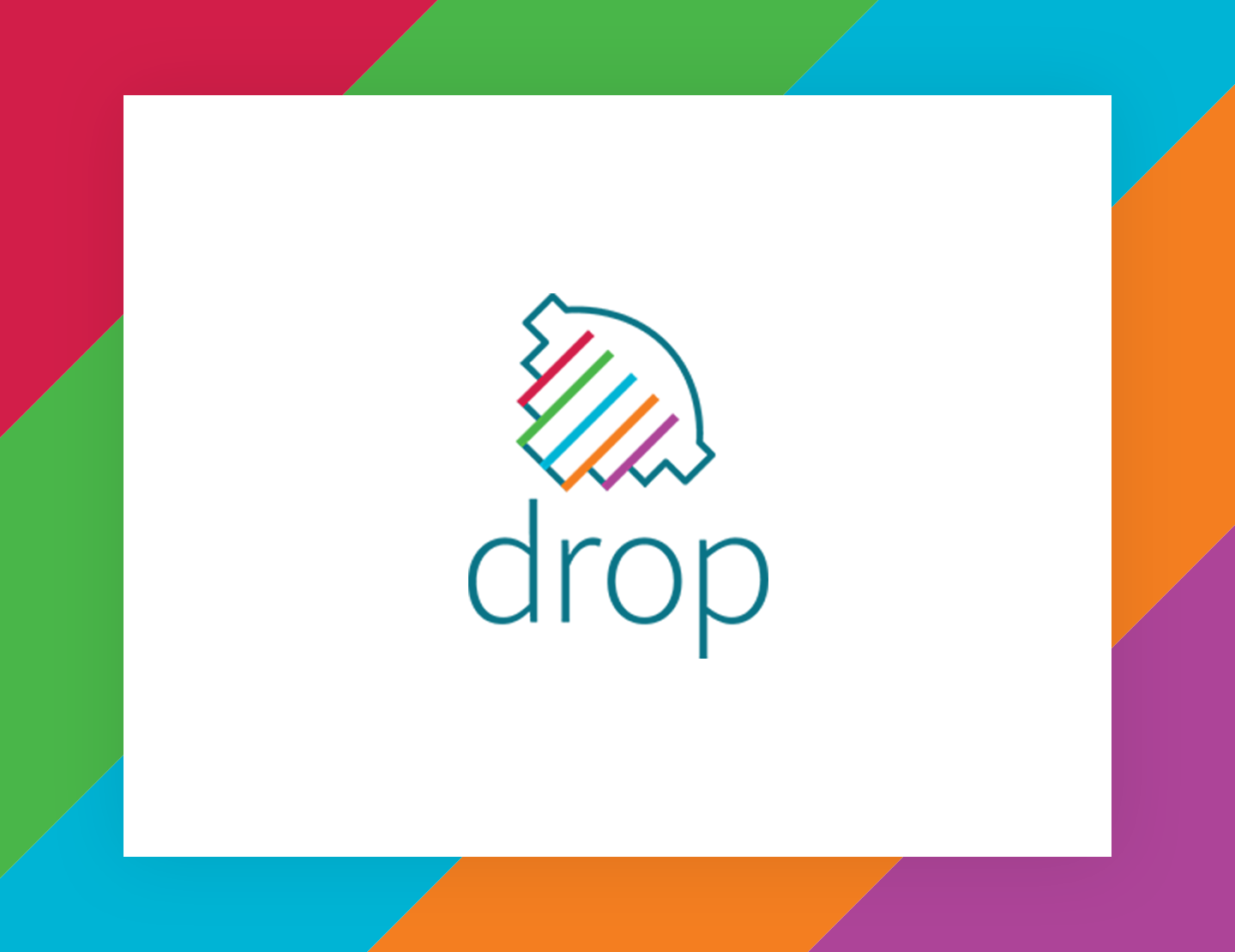 Connecting a Wealth of Products and Services into a Single System
Josh's latest challenge was restructuring his diverse product and service offerings into a single system and business structure. He is also opening 2 more dental practices.
Because of this incredible growth, Josh needed to consolidate his positions and leadership across his companies into a single role and a single brand.
He approached me with a new challenge: how can we connect all the separate products and businesses he's launched into a single ecosystem without scrapping all the designs we've already created? A significant design challenge, to be sure.
Josh had a new vision for his role in his companies: connecting his products, dental practices, and methods into a single system. Josh's personal focus—uncommon in the dental industry where many practices are acquired by large corporations and chains and then adopt impersonal operational practices—became his unique differentiator. I helped Josh distill this into a new brand and marketing system which he decided to call Smile From Within.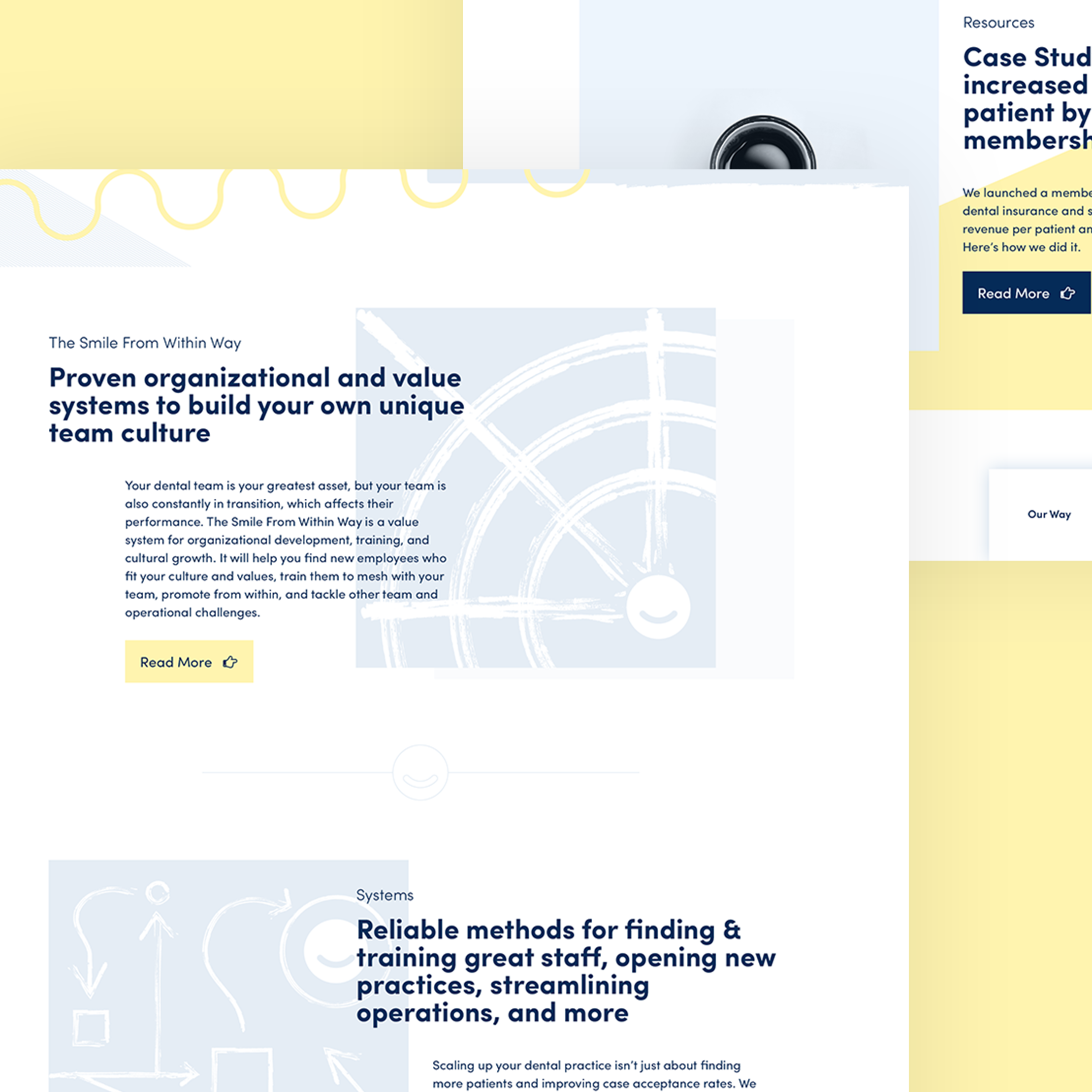 Early design concepts.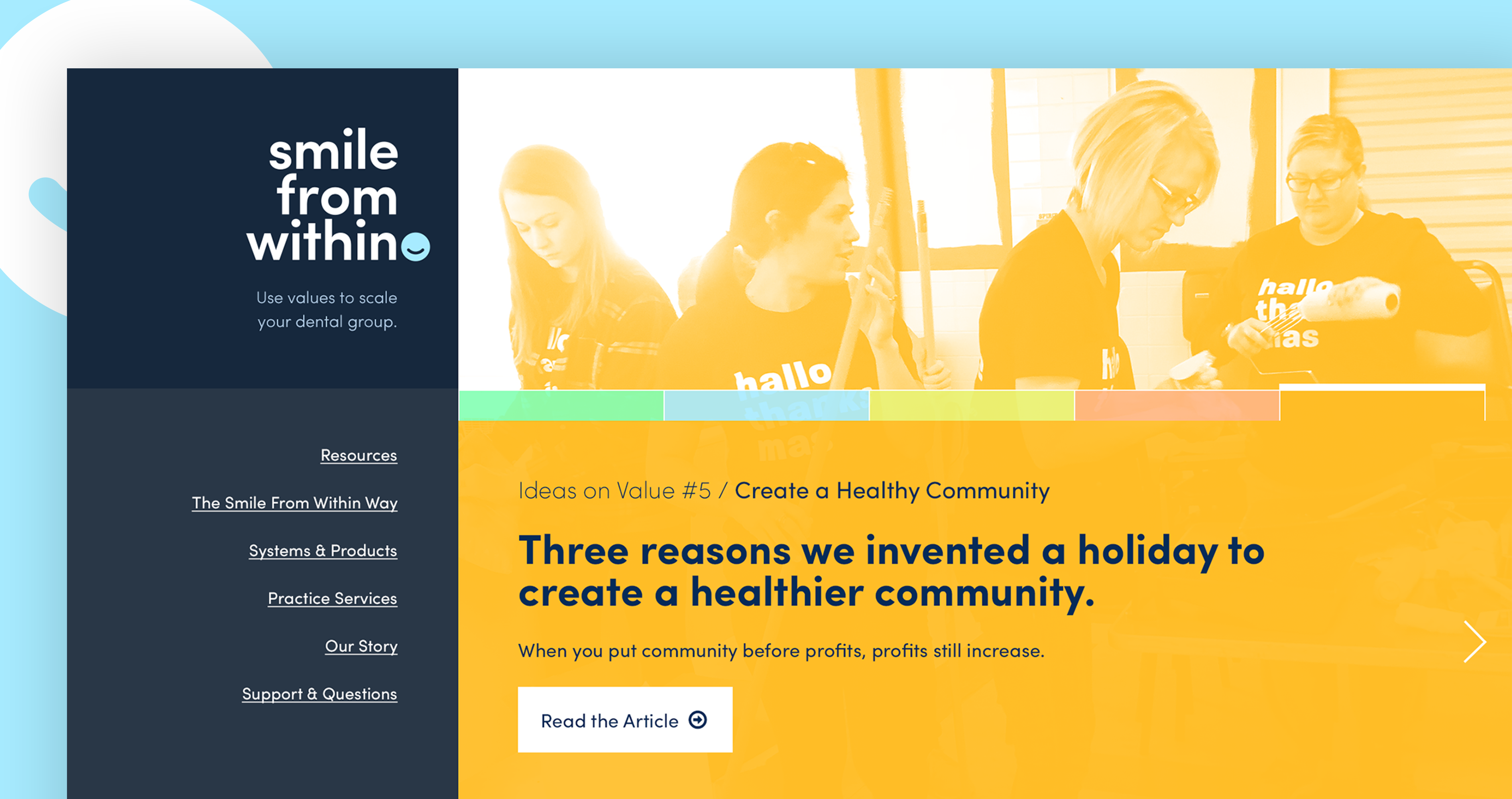 The final homepage design.
Here's What Josh Had to Say About Our Partnership
Before I met Jarrod, my concept was disorganized and unfocused. He has helped me by cleaning up our value proposition, organizing our product offering, and refining our sales funnel. I couldn't be happier with the work. I have grown to respect his input greatly.

Jarrod has been a partner over time in every sense of the word. He has consistently been hard working and dedicated and also respectful of timeline and budget. Even better, he continues to apply his design and development expertise without compromising our sincerest intentions.

Joshua Renken, Founder of PracticeWater and Smile From Within
I can do the same for your business. Let's talk.
If you're interested in working together, drop me an email. I'll ask you a few quick questions and then we'll schedule a call to discuss your project.